Murine Anti-

Von Willebrand Factor
Clone GMA-022
Background
Von Willebrand factor is a ~250 kDa glycoprotein found in blood that forms a series of large disulfide-linked multimers ranging in size from 500 kDa to >20,000 kDa. Von Willebrand factor has two important functions: mediating the adhesion of platelets to the subendothelium and protecting factor VIII from proteolysis. GMA-022 is suitable for ELISA and western blot applications.
More Information
Description
Species Reactivity:

Human

Source:

Murine

Immunogen:

human von Willebrand Factor

Isotype:

IgG1
Application
ELISA:

Binds immobilized human von Willebrand factor.

Immunoblotting:

Western blot detects von Willebrand factor under reduced conditions.
Data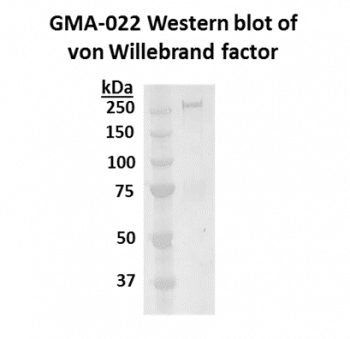 Antibody References